The San Francisco Chapter Nominations and Elections committee is pleased to present the slate of candidates for the 2023-2024 term of office.
We want to thank the Nominations & Elections Committee for their hard work the last few months.
Position – President Candidate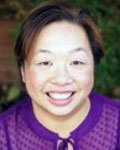 Alice Yu
Alice is the Principal Consultant and Owner of Salus Risk Management Consulting. Her north star is to help companies make it easy for their employees to do the right thing, difficult to do the wrong thing and build resilience to minimize consequences when things happen. She has over 25 years of Occupational Health and Safety experience in the high tech and bio-tech industries. She started her journey in the safety when she was in the U.S. Army Chemical Corps teaching Chemical, Biological, Radiological and Nuclear Defense to enlisted soldiers and officers. She has held positions as a corporate site safety and biological safety lead. She has a Bachelors in Molecular Biology and Masters in Environmental and Occupation Health Sciences.
She says that her most valuable lessons are what she's learned from cats and kids.
Position – President Elect
Shanon Winston
Shanon was born in Los Angeles County and raised in Orange County, always interested in working in the health field. Her career began going into medicine and quickly changed into the OEHS field before completing Bachelor of Science in Health Science. Shanon was introduced into the field through the Orange County Chapter of ASSP and become involved as a student board member, where she served as a Vice president and Fundraise Chair. In over 11 years since then, she has received a few certifications in both ergonomics and hazardous materials management and has established her career and wonderful network from varied experience as a safety professional in ergonomics, healthcare safety, facilities safety, water/wastewater, hazardous materials safety, and more. She currently resides and works in Contra Costa County, as the County's acting Safety Officer within the Risk Management Department and continues to enjoy partnering with the diversity of colleagues and public services the County has to offer.
Position – VP Membership
Tami Galt, CSP, ARM
Tami has been a member of ASSP for over 25 years. She has been the San Francisco Chapter Membership VP for more than 2 years and has served as President, Past President, Awards Chair, Delegate and Treasurer. She is the AVP and Regional Loss Control Manager for Republic Indemnity, a Workers' Compensation specialty carrier. She has over 25 years experience in the property and casualty insurance field.Awarded "Best in Show" in the category of "External Corporate Print Communications" on behalf of Republic Indemnity from the national Insurance Marketing Communications Association Showcase for loss prevention poster series she developed with the marketing department.
Position – Treasury
Joe Coffey
After earning a bachelor's degree in biology and spending about nine years in the biotech industry, Joe made the leap into safety in the commercial insurance field. Over the past eight years Joe has provided safety consultation to clients, focusing on the tech and life science industries. When Joe heard about the upcoming opportunity with the Treasurer position for the chapter, he began shadowing the current Treasurer in his duties to learn more about the role. I'm looking forward to serving if elected.
Position Secretary
Charlie Olson
Born in MA and raised in NH, Charlie received a degree in Safety Studies from Keene State College in NH after becoming interested in the program from his friends. He has worked in many industries over an almost 30 year career, starting with Biotech/Pharmaceutical and moving through Microelectronics, Consulting, Semiconductors, Instrument Manufacturing/Clinical, Agricultural Tech and back to Biotech, in his current role as Associate Director of EHS at Arsenal Biosciences, Inc. He has been an ASSP member since his college days and handled the Webmaster/Social Media Chair position for the SF ASSP in 2022-23.
In addition to practicing EHS, Charlie is a certified ski instructor and can be found in Tahoe most weekends between December and May.
Position – VP Programs
John Cockle
John Cockle is a career railroader with over 20 years of experience as a locomotive engineer, train dispatcher, and field operations positions. In 2009 John moved into the Operations Safety position at Caltrain and never looked back. Since 2011 John has worked for several large consulting and engineering firms, developing system safety programs for California High Speed Rail and supporting large infrastructure projects for BART, SFMTA, and TriMet in Portland. In July 2021 John moved back to the delivery side of the industry, taking a Systems Safety position with one of the largest design/build contractors in the rail transit industry. John is a CSP and has completed the Federal Transit Administration's Public Transportation Safety Certification Training Program. John lives in Berkeley with his family, is active in his son's Sea Scout program, and sits on the Board of Directors of California Operation Lifesaver rail safety program.
Position – VP Special Events
Paul Andersen
Paul is a seasoned Safety Professional with 25 years' experience addressing Construction Industry, General Industry as well as the Oil & Gas Industry safety and compliance issues.
Paul has been a member of ASSP since 1990, holds several professional certifications (CHST, OWSI, CSHO, CSM, MSP), is an OSHA Outreach Instructor, CSTI Outreach Instructor, CA State Fire Marshal Fire Investigator I and a Registered Environmental Assessor (REA). Paul served a short time with Cal/OSHA as an Associate Safety Engineer assigned to the High Hazard Unit (N).
2023- 2024 Non-Elected Board Positions
Tiffany Barnett
Past President / Advisory Group
Open
Construction Section Chair
Karen Bouvier
Grapevine Section Chair
Charity Nicolas
WISE Section Chair
Susie Parrish
Communications Chair
Open
Awards & Recognition Chair
Mark Stone
Government Affairs
Steve McConnell
Student Chair
Charlie Olson, CSP
Website, Social Media Chair