The San Francisco Chapter — ASSP is happy to post your job on our website. All you need to do is send the job posting information – as a text in an e-mail body or as an MS word document to webmaster@sanfrancisco.assp.org 
There is no cost associated with posting on our website.
Old job postings that are more than 60 days old will be removed from the website. If you haven't found a suitable candidate in that time, please send a new listing to be re-posted.
When you join Verizon
Verizon is one of the world's leading providers of technology and communications services, transforming the way we connect across the globe. We're a diverse network of people driven by our shared ambition to shape a better future. Here, we have the ability to learn and grow at the speed of technology, and the space to create within every role. Together, we are moving the world forward – and you can too. Dream it. Build it. Do it here.

What you'll be doing…
The Environmental, Health, and Safety (EHS) Governance Manager will be responsible for developing, implementing, and managing a process that identifies EHS requirements and reviews those requirements against program and operational performance to determine the level of compliance and to identify gaps and areas for improvement. This position is an integral part of Verizon's Environment, Health, and Safety team. The chosen candidate will be primarily responsible for the following EHS governance functions:
Review EHS programs and confirm that the business is complying with program requirements through the use of available data, interviews, inspections, and audits.
Coordinate and conduct facility and program compliance assessments utilizing internal resources and consultants to identify root causes and short and long-term corrective actions as necessary.
Track activities and audit results through our integrated management information system to ensure corrective actions are completed effectively and on time.
Utilize skills and experience to analyze information and programs to make recommendations and guide continual improvement towards a world-class EHS management system.
Identify EHS performance improvement projects and participate with cross-functional resources to complete projects and mitigate risks to incorporate current practices and the latest technologies. You will also have opportunities to work with and implement your experience in supporting these functions:
Creating reports to be used by leadership to drive EHS performance and continual improvement.
Inform the development, update, and implementation of EHS programs, policies, and procedures.
Support EHS Management system integration, management, and continual improvement. Assist with ensuring that key system processes are scheduled, conducted, and documented.
Assist with the development and implementation of an internal communications plan that informs, engages, and educates employees about EHS compliance programs.
Manage EHS vendors, expenses, and budget.
Act in support of and as a role model for Verizon's goals of safety for everyone; at work, at home, and on the road.
Where you'll be working…
In this role, you'll have a defined work location that includes work from home and assigned office days set by your manager.

What we're looking for…
We are seeking an experienced, energetic self-starter who wants to be a transformative member of a world-class corporate EHS team. The individual will have experience developing and managing EHS governance programs and will be comfortable working independently and also collaboratively as part of a larger team.
You'll need to have:
Bachelor's degree or four or more years of work experience.
Six or more years of relevant work experience.
Certified Professional Environmental Auditor (CPEA) in Environmental Compliance and Health and Safety.
Experience auditing and directly managing an EHS Auditing program.
Willingness to travel up 25%
Even better if you have one or more of the following:
Experience in EHS, Engineering, Science, or another technical related field.
Experience in a related corporate or compliance role managing company personnel and contractors.
Technical and working knowledge of EHS regulations.
Interpersonal skills and ability to develop positive working relationships.
Communication, writing, research, and analytical skills.
Results-driven, detail-oriented, able to anticipate needs and issues and identify appropriate solutions.

Notice(s)
Verizon will consider qualified applicants with criminal histories in a manner consistent with the requirements of the San Francisco Fair Chance Ordinance.

Equal Employment Opportunity
We're proud to be an equal opportunity employer – and celebrate our employees' differences, including race, color, religion, sex, sexual orientation, gender identity, national origin, age, disability, and Veteran status. At Verizon, we know that diversity makes us stronger. We are committed to a collaborative, inclusive environment that encourages authenticity and fosters a sense of belonging. We strive for everyone to feel valued, connected, and empowered to reach their potential and contribute their best. Check out our diversity and inclusion page to learn more.
Janssen Research & Development, LLC, a member of the Johnson & Johnson Family of Companies is recruiting for an Associate Manager, Biosafety!
At the Janssen Pharmaceutical Companies of Johnson & Johnson, we are working to create a world without disease. Transforming lives by finding new and better ways to prevent, intercept, treat and cure disease inspires us. We bring together the best minds and pursue the most promising science. We are Janssen. We collaborate with the world for the health of everyone in it. Learn more at www.janssen.com and follow us @JanssenGlobal. Janssen Research & Development, LLC is part of the Janssen Pharmaceutical Companies.
Are you interested in joining a diverse team where we believe Safety is a commitment from the heart, and we take an active interest in others and look out for their safety every day? Apply today!
The Associate Manager will be responsible for providing technical leadership to the Biological Safety Program serving the Janssen R&D South San Francisco location with periodic support to additional satellite locations. They will ensure the biological safety programs adhere to federal, state, and local EH&S regulations, as well as Johnson & Johnson Standards. They will partner with scientific and business leaders to assess and mitigate biological risk and build consistency of expectations in the workplace. They will serve as the Janssen R&D, SSF Biological Safety Officer (BSO) and Chairperson of the site Biosafety leadership team, who impacts decision making and takes an active role in promoting cross-site initiatives, teamwork, and collaboration across site functions.
Key Responsibilities:
Develop, implement, and lead biosafety programs that minimize the risks of occupational exposure and ensure compliance with guidelines from the Centers for Disease Control and Prevention (CDC), the National Institutes of Health (NIH), as well as a variety of local, state, and federal biosafety-related regulations.
Oversee compliance as defined by the Bloodborne Pathogen and Aerosol Transmissible Disease Standards, Medical Waste regulations, and all other etiologic agents use requirements from federal, state, and local regulations.
Provide technical and regulatory compliance, advice assessing physical and health risks associated with the use of potentially pathogenic microorganisms, human or non-human primate (NHP) tissue or cells, and organisms containing recombinant or synthetic nucleic acid molecule research (R/SNA).
Lead federal, state, and local permit and registration activities.
Advise on laboratory practices and establish procedures to handle employee exposure risks associated with human source materials, viruses, bacteria, and recombinant DNA activities.
Improve biological safety risk assessment processes and inventory documentation as well as deliver hazard specific training.
Serve as a member of the J&J Global Biological Safety Council.
Qualifications
Education:
Minimum Bachelor's or equivalent university degree required; advanced degree or focused degree in EHS, Microbiology, Engineering, Science, or related field preferred
Skills & Experience:
Required:
Minimum 6 years of relevant work experience
Demonstrated knowledge of BSL 2 and/orBSL 3 operations
Environmental, Health, & Safety (EHS) experience with emphasis on Biosafety and/or R&D experience
Experience identifying, evaluating, and controlling EHS risks in the workplace
Experience working with regulatory authorities, NGOs (such as NIH and/or SSB), and similar agencies
Knowledge of CDC, NIH, BMBL guidelines, OSHA BBP, and other consensus regulations/standards
Technical/working knowledge of federal, state, and local regulations
Demonstrated ability to quickly interpret complex regulatory issues and provide recommended course of action
Strong written and verbal communication skills with the ability to communicate clearly to all levels of the organization
Proficient in MS SharePoint and MS Office software programs
Preferred:
Certifications such as RBP, CBSP, CIH, CSP, and/or PE
Experience in a GMP environment
Demonstrated project management skills
Other:
Requires up to 10% domestic and international travel
At Johnson & Johnson, we're on a mission to change the trajectory of health for humanity. That starts by creating the world's healthiest workforce. Through cutting-edge programs and policies, we empower the physical, mental, emotional and financial health of our employees and the ones they love. As such, candidates offered employment must show proof of COVID-19 vaccination or secure an approved accommodation prior to the commencement of employment to support the well-being of our employees, their families and the communities in which we live and work.
Johnson & Johnson is an Affirmative Action and Equal Opportunity Employer. All qualified applicants will receive consideration for employment without regard to race, color, religion, sex, sexual orientation, gender identity, age, national origin, or protected veteran status and will not be discriminated against on the basis of disability.
For more information on how we support the whole health of our employees throughout their wellness, career and life journey, please visit www.careers.jnj.com .
Primary Location
United States-California-South San Francisco-260 E. Grand Avenue
Organization
Janssen Research & Development, LLC (6084)
Job Function
Engineering
Requisition ID
2206013767W
Company: US0050 Sysco San Francisco, Inc.
Zip Code:94538
Minimum Level of Education:Associate's Degree
Minimum Years of Experience:2 Years
Employment Type:Full Time
Travel Percentage: Up to 50%
JOB SUMMARY
This Operating Company (OpCo) based position will assist with the implementation of prevention-focused health, safety and environmental (HSE) and security program. The position will assist and promote OpCo- specific project implementation and training to support Sysco's overall HSE objectives, including security and crisis preparedness objectives.
RESPONSIBILITIES
Complete new hire orientation training programs as assigned by the Safety Director.
Maintain records for safety programs (ie training logs, reports, inspections).
Implement and train new or existing training programs, provided by Safety Director, to employees and supervision as needed.
Inspect facilities to detect existing or potentially unsafe conditions
Participates in investigations, when needed, on vehicle accidents and injuries.
Assist with the identification of root causes and helps supervision develop corrective actions when needed.
Engages associates to properly follow work methods in their daily job functions.
Completes observations and coaching of high-risk associates as needed
Monitors inspection of equipment to detect existing or potential failures and recommends corrective/preventative measures where indicated.
Support site management in the implementation of health, safety, and environmental (HSE) plans.
Promotes a workplace that is a proactive safety culture.
Provide supervisor and management training on root cause analysis.
Interface with regulatory bodies (OSHA, DOT, EPA, and State/Local Regulators) in the Safety Directors absence.
Aids with the completion of a company-wide annual HSE training plan.
Develop effective interdepartmental relationships
Display strong problem solving, organizational and analytical skills.
Demonstrate professional maturity and ability to act as a change member.
Promote zero-incident HSE culture throughout the company.
Support execution of Sysco's Emergency Preparedness Plan procedures and policies.
Interprets trains and consistently enforces Company policies and procedures.
Maintains associate relations through regular interactions and communication, monitors associate morale and provides feedback to leadership when needed.
QUALIFICATIONS
Education
Associate's degree and/or a minimum of 2 years of safety experience with OSHA certifications.
Experience
2+ years with direct hands-on safety experience in a warehousing, manufacturing or transportation operation.
2+ years of experience with Occupational Safety preferred.
Certificates, Licenses, and Registrations
Has attained or is working toward certification in safety as a recognized safety professional
Must possess a valid Driver's License
Professional Skills
Strong interest in safety with a proven record of results.
The ability to drive a strong safety philosophy and implement constructive behavior changes in Operations safety.
Solid analytical skills.
Excellent employee relations and interpersonal communication skills; ability to interact effectively with all levels of management, supervision, and employees.
Demonstrate excellent verbal communication, written communication, and presentation skills.
Leadership and team-building skills, able to influence decision-makers.
Proven knowledge of spreadsheet and word processing software, and the ability to learn Sysco technology software and programs.
Effectively using time and resources to accomplish overall initiatives and program goals.
The ability to analyze and independently solve a variety of difficult situations and problems.
Successfully demonstrate Leadership Framework competencies.
Physical Demands
The physical demands described here are representative of those that must be met by an employee to successfully perform the essential functions of this job.
Regularly required to sit, stand, walk and use hands and fingers to operate a computer keyboard, mouse, and telephone to talk and hear.
Frequently required to sit and reach with hands and arms.
The employee must occasionally lift and/or move up to 20 pounds.
Working Conditions
The work environment characteristics described here are representative of those an employee encounters while performing the essential functions of this job. Reasonable accommodations will be made to enable individuals with disabilities to perform the essential functions of this job.
This position will be performed at the assigned operating company facilities.
Must be able to do limited travel to Sysco facilities or operating companies.
The noise level in the work environment is usually moderate.
NOTICE: The above statements are intended to describe the general nature of the environment and level of work being performed by this job. This job description in no way states or implies that the duties and responsibilities listed are the only tasks to be performed by the employee in this job. The employee will be required to follow any other instructions and to perform any other job-related duties requested by his or her supervisor.
Reasonable accommodations will be made to enable individuals with disabilities to perform the essential functions.
This job description supersedes prior job descriptions. When duties and responsibilities change and develop the job description will be reviewed and subject to changes of business necessity.
BENEFITS INFORMATION:For information on Sysco's Benefits, please visit https://SyscoBenefits.com
HOW WE PROTECT OUR ASSOCIATES
COVID-19 Precaution(s):
Personal protective equipment and masks provided
Temperature screenings
Social distancing guidelines in place
Sanitizing, disinfecting, and cleaning procedures in place
OVERVIEW:
Sysco is the global leader in foodservice distribution. With over 57,000 associates and a fleet of over 13,000 vehicles, Sysco operates approximately 326 distribution facilities worldwide and serves more than 625,000 customer locations.
We offer our associates the opportunity to grow personally and professionally, to contribute to the success of a dynamic organization, and to serve others in a manner that exceeds their expectations. We're looking for talented, hard-working individuals to join our team. Come grow with us and let us show you why Sysco is at the heart of food and service.
AFFIRMATIVE ACTION STATEMENT:
Applicants must be currently authorized to work in the United States.
We are proud to be an Equal Opportunity and Affirmative Action employer, and consider qualified applicants without regard to race, color, creed, religion, ancestry, national origin, sex, sexual orientation, gender identity, age, disability, veteran status or any other protected factor under federal, state or local law.
This opportunity is available through Sysco Corporation, its subsidiaries and affiliates.
About the role
Sana Biotechnology is growing, and we are hiring new team members who believe in the potential of engineered cells as medicines, who want to challenge status quo, and who lead with the desire to work on novel ideas. As the Site Operations Director for South San Francisco you will report to Sr. Director, Global Head Site Operations and will be accountable for the successful management of end-to-end site operations which includes lab, facilities, systems instrumentation and office management. You will ensure that the site is working like a well-oiled machine, where employees have no operational roadblocks and have what they need to do their vital work on behalf of patients. Cool stuff.
What you'll do
Site Operations Team Leadership
Act as the general manager with full accountability for site operations. Develop and maintain a deep understanding of site customer needs and translate into fit-for-purpose, at times, scrappy delivery plans, leveraging and empowering the Site Operations team
Hire, lead, manage and develop the onsite team of specialists and managers as well as hire and manage contractors and 3rd party vendors who are responsible for supporting lab operations, EHS, facility/instrumentation, and office management, ensuring that their work is prioritized and scoped to serve the needs of onsite team members including our talented lab scientists
Create and implement operational standards and customer service metrics for the South San Francisco site; and manage the team against those standards and metrics
Partner with other operations functions within Sana (IT, Procurement, Global Facilities & Instrumentation, People, Legal) to drive solutions for South San Francisco site needs
Serve as a single point of contact for site operations requests, executing on day-to-day tasks that need quick resolution, either directly onsite or with key business stakeholders. Provide leadership for cross-functional site operational projects (e.g., space reconfiguration, freezer inventory, lab 5S initiatives, for example)
Engage with internal and external resources as needed to develop and successfully implementing strategies and programs for managing EHS compliance and risks
Lead and partner closely with Site Leader for all site emergency responses
Lead COVID-19 incident response for the South San Francisco site, including risk assessment, contact tracing and reporting
Lab Operations and System Instrumentation
Provide strategic direction and technical supervision of LabOps teams across the site, responsible for ensuring day-to-day smooth operations of Sana's laboratories, including equipment and instrumentation, scheduling and lab capacity utilization
Establish lab management and quality service standards, and coverage to meet lab scientists' needs including but not limited to:

Management of lab consumables and other critical lab supplies
Sample shipment/transfer between Sana facilities
Equipment/instrumentation repair and maintenance coordination between scientists and technicians
Tissue culture lab support
Safety inspections
Bio/chemical waste removal to centralized pick-up sites
Extended-hours coverage and response plans

Lab Space Planning. Develop lab space allocation plans for existing and future spaces in Cambridge. Incorporate scientist needs, growth projections, program timelines, space and equipment footprint, and needs for sharing/segregation into a long-term, flexible space allocation plan
Capital Project Representative. Serve as the voice of the scientist community and site operations team in capital project scoping, design, construction and delivery
With customers, Site Operations staff and third-party vendors, further develop item lists, stock locations, and stock levels to ensure that scientists have ready access to all basic consumables, critical materials as identified by scientists, and materials identified in Procurement/Supply Chain reports as targets for standing inventory. Maintain the master list of managed items onsite, actively manage which items are managed by vendors versus internally
Partner with key stakeholders to develop and continuously strive for a proactive, high bar safety culture
Environmental Health & Safety
Foster and enable a high standard around our culture of safety expectations onsite
Work with EH&S Specialist to manage EH&S programs at the site to include but not limited to Exposure Risk Assessments, Chemical Hygiene, Hazard Communication, Biosafety Management, Respiratory Protection, Hearing Conservation and Personal Protective Equipment (PPE)
Ensure the site is compliant with all environmental and safety regulations; including Federal, State and/or City regulations
Facilities Operations
Work with Facilities and office management staff to ensure all facilities including but not limited to badging, building and site and space security, space planning, office supplies management, kitchen and bathroom operations, HVAC, (please add) at the site are met so that employees have a highly operational, safe facility to work in; at times you may need to be hands on to solve the issues when needed
Partner closely with Real Estate and Facilities to ensure proper building security and amenities are availability
What we're looking for
Bachelor's degree in Engineering, Business Administration or a related field
10+ years of progressive experience in operational leadership in R&D and GMP and GLP laboratory, biotechnology or pharmaceutical environments
5+ years of proven success leading teams of facilities and lab operations staff and vendors. Proven track record in managing and scaling lab operations
Stellar interpersonal, negotiation, influence, and communications skill with the proven ability to communicate effectively across all departments and levels of the organization
Demonstrated drive, curiosity, scientific rigor and excellent problem-solving skills across a fast-paced performance driven environment
Is known for being highly customer service oriented and has a track record of anticipating the needs of all customers, including bench scientists
Demonstrated ability to drive for results and get things done in an entrepreneurial and scrappy manner
Demonstrates high judgment in planning work and problem solving; is 'right a lot'
Demonstrated ability to engage and effectively influence team members across multidisciplinary departments while prioritizing multiple projects and meeting deadlines
Demonstrated drive, curiosity, scientific rigor and creative problem-solving skills across a fast-paced performance driven environment
Experience managing and prioritizing inputs from diverse stakeholders to deploy a plan that meets the needs of the site
Is flexible and adaptable; – Ability to change on a dime, operate in a scrappy manner
Can translate data into actionable insights and communicates in a way that resonates—inspiring people to care
Demonstrated breadth of experience in Laboratory Operations and Facilities Management. Must understand laboratory supply streams, waste streams, cell culture workflow, have experience working in an R&D and GMP and GLP laboratory environment
What will separate you from the crowd
Sophisticated fiscal planning and leadership skills, with a strong understanding of the complexities of a multi-site environment
What you should know
This role is expected to work onsite 100% of the time
Working safely in person on a predictable and regular in-person basis is an essential job function for this position, and the Company requires that all individuals working in-person be fully vaccinated against COVID-19, including receipt of a vaccine booster shot if recommended by the CDC
How we work together
Lead from every seat – we seek to understand, act with honesty, and engage in the crucial conversations
Thrive as a team – we hire amazing people, are intensely curious, and cultivate inclusion and personal connectivity
Make it happen – we value vigorous debate, alignment around our decisions, and resilient execution
Get to know us
At Sana, we believe that a diverse workforce strengthens us as a company and helps us to achieve our mission to meaningfully change the outcome of many human diseases. This belief is a pillar of our business and is critical to our success. Our goal is that Sana is the place for talented people to bring their authentic selves to work, to have a great career and to deeply, positively impact patients.
Core to our values, we believe there is nothing more important than the health and wellness of you and your family. For benefit eligible employees, we cover 100% of the cost for employee health coverage and offer generous time-off, parental leave, short- and long-term disability, employer paid basic life insurance, additional voluntary life insurance protection, financial wellness programs including financial planning resources, a 401(k) Plan with an immediately vested employer match, Tuition Reimbursement and Student Loan Repayment, Employee Stock Purchase Plan, commuter subsidy and a variety of wellness offerings to support each person individually.
We are committed to providing a workplace free of discrimination and harassment based on race, color, religion, age, gender, national origin, ancestry, physical or mental or sensory disability (including the use of a trained guide dog or service animal by a person with a disability), genetic information, actual or perceived HIV or Hepatitis C infection, medical condition (cancer or a record or history of cancer and genetic characteristics), marital status, sexual orientation, sexual preference, pregnancy (including childbirth and related medical conditions), disability, veteran status, political ideology, social class (including caste/caste identity), taking or requesting statutorily protected leave, status as a victim of domestic violence, sexual assault or stalking, or any other basis prohibited by applicable law.
To perform this job successfully, you must be able to perform each job responsibility satisfactorily. The job description listed above is representative of the knowledge, skills, and/or abilities required for this position. Reasonable accommodations may be made to enable individuals with disabilities to perform the functions described above.
Chapter Scholarship Recipient -Zaid Hadi
Zaid is completing his first class in the AS degree program at Las Positas college; he was referred to the program in Occupational Health & Safety by Construction Safety professionals performing an inspection at a jobsite in San Francisco. He intends to earn the AS degree at Las Positas before continuing on toward a Bachelors degree in the same area of study. He looks forward to becoming a leader in the effort to protect workers from health and safety hazards on the job. He sees the construction industry as having professional opportunities in many different areas of interest including safety management, regulatory compliance, enforcement, risk management and safety training. Zaid has attended construction technology classes at the Regional Occupational Program (ROP) partnership with the San Mateo County office of education.
Receiving the Chapter's scholarship award will help Zaid replace his current troublesome laptop and support a portion of future classes he plans to complete at Las Positas. In addition, the scholarship has been a boost to his morale. He thanks the Chapter for its support of the OSH program at Las Positas college.
Construction Section Scholarship Recipent – Sailesh Narain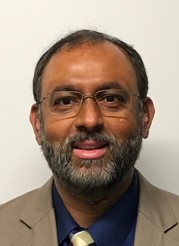 As a relatively new Safety and Compliance Manager Sailesh decided to enroll in OSH Classes at Las Positas College in hopes of enhancing his understanding of safety management. He also sees the program at Las Positas as a positive step in his pursuit of safety certification. He is aware that colleges in the area are offering OSH classes and degree programs and believes the Las Positas program will help him attain his ultimate career goal; working in Occupational Health and Safety doing safety management and audits.
Sailesh's work experience includes many different positions within the Safety, Health, Environmental (Haz waste disposal) area. For more than 20 years he held responsibilities for SWPP/BAACMD and FAA/DOT/TSA Compliance for two major Airlines. In his last position Sailesh was the Design and Construction manager for an Airport Terminal and the site Safety Officer.
The COVID-19 pandemic provided Sailesh the unique opportunity to change jobs and work in the Safety and Compliance arena. In prior positions, he had many opportunities to build upon his education, leading to Undergraduate and Graduate degrees from CSU, East Bay. He also had the opportunity to Serve the US Army in different fields, including construction.
Sailesh's immediate goal is to attain certification in Safety Management. He hopes Certification will lead to a Global Safety management career. The Section's scholarship will help by deferring a portion of the cost of continuing in the Las Positas OSH program. Sailesh is happy the Construction Section of ASSP is supportive of the Las Positas program.
The Cal/OSHA Consultation Unit is pleased to announce the scheduling of our COVID-19 Webinars for the Emergency Temporary Standard.
To register, please visit our COVID-19 Webinar website to view all available dates and to self-register or view the dates below.
You may also want to download and install the Zoom app or web client in order to ensure that there are no delays with viewing the webinar.
Attendance is limited to 1000 registered participants per Webinar session.
A question and answer session will follow after the presentation.
The intended audience for this webinar is geared towards:
· Business Owners
· Managers
· Supervisors
· Human Resources Staff
· Environmental, Health and Safety Staff
Flash Report: Crawford Joins Cal/OSHA Standards Board
The Governor has made three appointments to the Cal/OSHA Standards Board.
Filling a long-time vacancy on the Cal/OSHA Standard Board, Governor Gavin Newsom named construction safety professional Kathleen "Kate" Crawford to the position. The seat has been vacant since 2018.
Crawford fills the open seat on the seven-member board and is the second management representative.
Director of safety and health at Hensel Phelps Construction since 2015, Crawford is a familiar face in the Cal/OSHA community. She has been an active participant in many rulemaking projects. Previously, she was director of safety and regulatory affairs at Associated General Contractors of California; safety director at Turner Construction; and safety manager at SKANSKA USA Building.
She also is a member of the American Society of Safety Professionals and on the advisory council for Central Washington University's safety degree program.
Reappointed are two members: Labor member David Harrison, financial secretary for Operating Engineers Local 3; and occupational safety member Laura Stock, director of UC Berkeley's Labor Occupational Health Program.
The Standards Board is unpaid and does not require Senate confirmation. The three appointments were announced late Wednesday the 30th of December.