Chapter Scholarship Recipient -Zaid Hadi
Zaid is completing his first class in the AS degree program at Las Positas college; he was referred to the program in Occupational Health & Safety by Construction Safety professionals performing an inspection at a jobsite in San Francisco. He intends to earn the AS degree at Las Positas before continuing on toward a Bachelors degree in the same area of study. He looks forward to becoming a leader in the effort to protect workers from health and safety hazards on the job. He sees the construction industry as having professional opportunities in many different areas of interest including safety management, regulatory compliance, enforcement, risk management and safety training. Zaid has attended construction technology classes at the Regional Occupational Program (ROP) partnership with the San Mateo County office of education.
Receiving the Chapter's scholarship award will help Zaid replace his current troublesome laptop and support a portion of future classes he plans to complete at Las Positas. In addition, the scholarship has been a boost to his morale. He thanks the Chapter for its support of the OSH program at Las Positas college.
Construction Section Scholarship Recipent – Sailesh Narain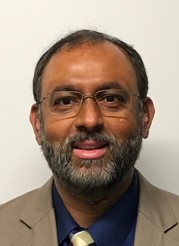 As a relatively new Safety and Compliance Manager Sailesh decided to enroll in OSH Classes at Las Positas College in hopes of enhancing his understanding of safety management. He also sees the program at Las Positas as a positive step in his pursuit of safety certification. He is aware that colleges in the area are offering OSH classes and degree programs and believes the Las Positas program will help him attain his ultimate career goal; working in Occupational Health and Safety doing safety management and audits.
Sailesh's work experience includes many different positions within the Safety, Health, Environmental (Haz waste disposal) area. For more than 20 years he held responsibilities for SWPP/BAACMD and FAA/DOT/TSA Compliance for two major Airlines. In his last position Sailesh was the Design and Construction manager for an Airport Terminal and the site Safety Officer.
The COVID-19 pandemic provided Sailesh the unique opportunity to change jobs and work in the Safety and Compliance arena. In prior positions, he had many opportunities to build upon his education, leading to Undergraduate and Graduate degrees from CSU, East Bay. He also had the opportunity to Serve the US Army in different fields, including construction.
Sailesh's immediate goal is to attain certification in Safety Management. He hopes Certification will lead to a Global Safety management career. The Section's scholarship will help by deferring a portion of the cost of continuing in the Las Positas OSH program. Sailesh is happy the Construction Section of ASSP is supportive of the Las Positas program.
The Cal/OSHA Consultation Unit is pleased to announce the scheduling of our COVID-19 Webinars for the Emergency Temporary Standard.
To register, please visit our COVID-19 Webinar website to view all available dates and to self-register or view the dates below.
You may also want to download and install the Zoom app or web client in order to ensure that there are no delays with viewing the webinar.
Attendance is limited to 1000 registered participants per Webinar session.
A question and answer session will follow after the presentation.
The intended audience for this webinar is geared towards:
· Business Owners
· Managers
· Supervisors
· Human Resources Staff
· Environmental, Health and Safety Staff
Flash Report: Crawford Joins Cal/OSHA Standards Board
The Governor has made three appointments to the Cal/OSHA Standards Board.
Filling a long-time vacancy on the Cal/OSHA Standard Board, Governor Gavin Newsom named construction safety professional Kathleen "Kate" Crawford to the position. The seat has been vacant since 2018.
Crawford fills the open seat on the seven-member board and is the second management representative.
Director of safety and health at Hensel Phelps Construction since 2015, Crawford is a familiar face in the Cal/OSHA community. She has been an active participant in many rulemaking projects. Previously, she was director of safety and regulatory affairs at Associated General Contractors of California; safety director at Turner Construction; and safety manager at SKANSKA USA Building.
She also is a member of the American Society of Safety Professionals and on the advisory council for Central Washington University's safety degree program.
Reappointed are two members: Labor member David Harrison, financial secretary for Operating Engineers Local 3; and occupational safety member Laura Stock, director of UC Berkeley's Labor Occupational Health Program.
The Standards Board is unpaid and does not require Senate confirmation. The three appointments were announced late Wednesday the 30th of December.
The Fall 2020 SF Chapter scholarship recipient is Kevin Comerford. Congrats to Kevin!
Kevin is working toward the associated degree in Occupational Safety and Health at Las Positas College and hopes to work in ES&H upon graduation. He already holds a BA in Wood Products Engineering from the State University of New York College and an Associate's degree in Forestry from Paul Smith's College in New York. With his BA in hand, Kevin relocated to Oregon in 2003 and began working in a sawmill. He recalls safety being priority 1 at the sawmill. He became a member of the site safety committee and enjoyed the opportunity to travel to other sawmills, performing walkthroughs and reviewing safety programs. For the past eight years, he has stayed at home with his two children. With the kids now on the same school schedule, he has the time and hopes to re-enter the workforce. Kevin brings a lot of work experience to the program at Las Positas College and is willing to share that information with others. According to Steve McConnell, a professor in the Las Positas Occupational Safety and Health program, "Kevin continues to do well in each class he takes. He should have no problem moving into an ES&H position upon graduation."
Congratulations on a great chapter year. The San Francisco Chapter has achieved Platinum level recognition for the 2019 – 2020 year. This recognition is based from the information your chapter submitted in the Chapter Operations Management Tool (COMT) of 6/30/2020.
The work that goes into achieving this level of success is impressive and greatly appreciated by ASSP. This year provided a new challenge and you adapted to the realities this situation created to protect the health and well-being of your members and local communities. Your efforts benefit your chapter members and the safety profession as a whole.
Read More
The San Francisco Chapter obtained Gold Level status for the 2018-2019 Chapter Year under the leadership of Amanda Shin.
The San Francisco Chapter will be recognized by ASSP Society in the following ways:
Listed on the 2020 Award Showcase webpage that will launch later this summer
Included in the award showcase video linked on Society's 2020 Award Showcase webpage
Highlighted in a special edition of Chapter Leader Update
Highlighted during the virtual 2020 Leadership Conference
Please congratulate the following scholarship winners for Spring 2020!
Ashley Swan – San Francisco Chapter Scholarship Recipient
Ashley Swan is the recipient of the Chapter's $500 scholarship for the Spring 2020 semester at Las Positas College. Ashley is a proud woman that is currently finishing her A.S. in Welding Technologies at Las Positas College.  She grew up in her parent's machine shop, and over the years heard the horror stories of what happens when there is a lack of safety in other shops.  Years later, after starting work in the field herself, Ashley came across many people who openly discussed close calls and permanent scars. She heard about others that never came home from work.  Ashley decided that taking the OSHA classes at Las Positas would help her do her part to ensure everyone goes home to their families at the end of the day, in one piece, and not in a box.  There eventually came a day when an individual she knew didn't come back from work in one piece.  Shortly thereafter, Ashley had her own close call and realized then how easily safety can be overlooked in the workplace.  She realized how much impact safety professionals have in the workplace; "just someone to be there to recommend that standing on each other's shoulders is not the best way to change a light bulb".  Ashley is looking forward to leveraging her experiences and new skills from her OSHA studies to find a meaningful career in safety and health.
Read More
Our current president, Amanda Shin, is pictured here receiving a plaque of appreciation for her 2 year term as president of the SF Chapter, presented by current president elect Jonathan Scruggs, from a safe distance and proper PPE. #sfassp #assp #recognition pic.twitter.com/v1UR6OoNca

— ASSP San Francisco Chapter (@ASSP_SF) April 21, 2020