Chapter Scholarship Recipient -Zaid Hadi
Zaid is completing his first class in the AS degree program at Las Positas college; he was referred to the program in Occupational Health & Safety by Construction Safety professionals performing an inspection at a jobsite in San Francisco. He intends to earn the AS degree at Las Positas before continuing on toward a Bachelors degree in the same area of study. He looks forward to becoming a leader in the effort to protect workers from health and safety hazards on the job. He sees the construction industry as having professional opportunities in many different areas of interest including safety management, regulatory compliance, enforcement, risk management and safety training. Zaid has attended construction technology classes at the Regional Occupational Program (ROP) partnership with the San Mateo County office of education.
Receiving the Chapter's scholarship award will help Zaid replace his current troublesome laptop and support a portion of future classes he plans to complete at Las Positas. In addition, the scholarship has been a boost to his morale. He thanks the Chapter for its support of the OSH program at Las Positas college.
Construction Section Scholarship Recipent – Sailesh Narain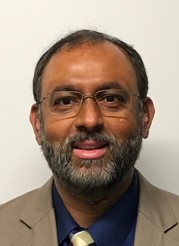 As a relatively new Safety and Compliance Manager Sailesh decided to enroll in OSH Classes at Las Positas College in hopes of enhancing his understanding of safety management. He also sees the program at Las Positas as a positive step in his pursuit of safety certification. He is aware that colleges in the area are offering OSH classes and degree programs and believes the Las Positas program will help him attain his ultimate career goal; working in Occupational Health and Safety doing safety management and audits.
Sailesh's work experience includes many different positions within the Safety, Health, Environmental (Haz waste disposal) area. For more than 20 years he held responsibilities for SWPP/BAACMD and FAA/DOT/TSA Compliance for two major Airlines. In his last position Sailesh was the Design and Construction manager for an Airport Terminal and the site Safety Officer.
The COVID-19 pandemic provided Sailesh the unique opportunity to change jobs and work in the Safety and Compliance arena. In prior positions, he had many opportunities to build upon his education, leading to Undergraduate and Graduate degrees from CSU, East Bay. He also had the opportunity to Serve the US Army in different fields, including construction.
Sailesh's immediate goal is to attain certification in Safety Management. He hopes Certification will lead to a Global Safety management career. The Section's scholarship will help by deferring a portion of the cost of continuing in the Las Positas OSH program. Sailesh is happy the Construction Section of ASSP is supportive of the Las Positas program.
The Cal/OSHA Consultation Unit is pleased to announce the scheduling of our COVID-19 Webinars for the Emergency Temporary Standard.
To register, please visit our COVID-19 Webinar website to view all available dates and to self-register or view the dates below.
You may also want to download and install the Zoom app or web client in order to ensure that there are no delays with viewing the webinar.
Attendance is limited to 1000 registered participants per Webinar session.
A question and answer session will follow after the presentation.
The intended audience for this webinar is geared towards:
· Business Owners
· Managers
· Supervisors
· Human Resources Staff
· Environmental, Health and Safety Staff
Flash Report: Crawford Joins Cal/OSHA Standards Board
The Governor has made three appointments to the Cal/OSHA Standards Board.
Filling a long-time vacancy on the Cal/OSHA Standard Board, Governor Gavin Newsom named construction safety professional Kathleen "Kate" Crawford to the position. The seat has been vacant since 2018.
Crawford fills the open seat on the seven-member board and is the second management representative.
Director of safety and health at Hensel Phelps Construction since 2015, Crawford is a familiar face in the Cal/OSHA community. She has been an active participant in many rulemaking projects. Previously, she was director of safety and regulatory affairs at Associated General Contractors of California; safety director at Turner Construction; and safety manager at SKANSKA USA Building.
She also is a member of the American Society of Safety Professionals and on the advisory council for Central Washington University's safety degree program.
Reappointed are two members: Labor member David Harrison, financial secretary for Operating Engineers Local 3; and occupational safety member Laura Stock, director of UC Berkeley's Labor Occupational Health Program.
The Standards Board is unpaid and does not require Senate confirmation. The three appointments were announced late Wednesday the 30th of December.